"I want to be a living work of art"
Those words were the purpose of life of the Marquise Casati, a celebrity of the Belle Époque.
Luisa Adele Rosa Maria Amman better known as Luisa Casati or Marquise Casati (1881-1957), born in Milan in 1881 in bosom of a wealthy family. His father, Alberto Amman, descended from Austrian, was named Count by King Umberto I. His mother, Countess Luisa Amman died when she was 13 and the count two years later, making Luisa and her older sister, Francesca, in the richest women in Italy.
Luisa, with 18 years old, married with a Milanese nobleman Camillo Casati Stampa di Soncino, Marchese di Roma, in 1900. A year later would be born her only daughter, Cristina. Her marriage with the Marquis was a nonsense and distanced between them, because the interests of each one were completely different, until ended living separately in different residences, he lived in Rome, and she went to Venice. Fourteen years after their wedding, Luisa became the first Italian woman to legally separate from her husband.
The divorce from her husband, would be a turning point in the life of the Marquesa, a before and after, because it was now free to unleash your imagination. First started by herself and aesthetics would take: dyed hair red, scarlet lips, made up with white powder, dilated pupils drops applied belladonna and much kohl eye accompanied by false eyelashes and even black velvet. After her peculiar palace Palazzo Vernier Dei Leoni she bought in Venice, where she potentiated its dilapidated state and put in the garden and inside the house various types of animals: peacocks, monkeys, snakes (which she used as a necklace), two cheetahs (she'd walk around Piazza San Marco, only covered by a fur coat without any clothes underneath) and other species. Casati was much talked about for 30 years, whether by their parties with their respective assembly and organization, or his histrionic appearances in the same. She was strange, difficult character and suffered bouts of narcissism, but she shone and had a great magnetism.
The high point of her fame was in 1913, when she organized in the Plaza San Marcos a masked ball, which attracted all the elite of the time. Designers Paul Poiret, Erte or Mariano Fortuny designs created especially for her (she was among the first to wear the famous Fortuny Delphos dress).
The pace of life of Luisa Casati took her to ruin, she had to undersell her heritage on 1930, already she had accumulated a debt of $ 25 million, Nevertheless, she did not repent of such dilapidation She moved to London living under the threshold of misery, until her death in 1957 at age 76. Nevertheless, her funeral was her last eccentricity; with leopard fur coat, false eyelashes, heavily made-up face and body dissected in the company of her Pekinese.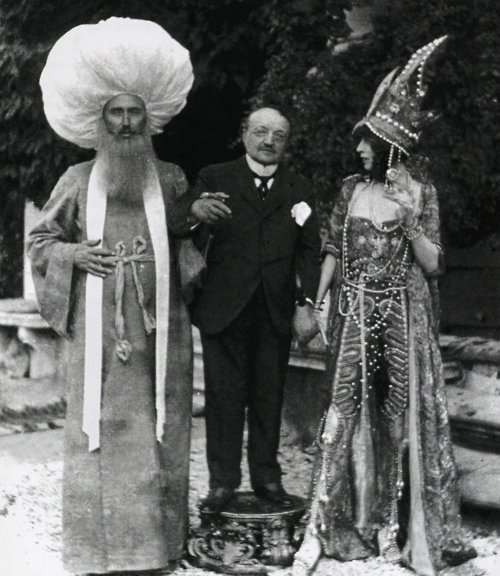 The footprint of Casati, has inspired many collections of Karl Lagerfeld, Alexander McQueen and John Galliano for Dior, such as spring-summer 1998 or Tom Ford for Yves Saint Laurent Spring Summer collection 2004. The actress Tilda Swinton few years ago reincarnated the Marquise in an editorial for the magazine Acne Paper Sweden.
From the point of view of Rosario Puñales Lingerie, the exotic and festive style of Marquise Casati and her intense life during the 20s, made us remember our Cabaret & Burlesque collection is inspired from the 20s and the key materials: feathers , fringes, embroidery, transparencies, lace, satin, velvet and dark and sophisticated colorful conform a more nocturnal atmosphere as in which she moved.